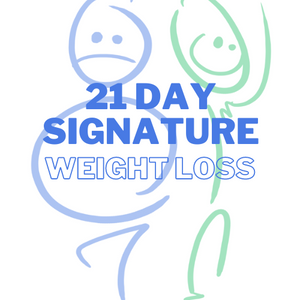 The Shrink Shop
A. 21 DAY INITIAL PROGRAM (In person or Zoom)
Regular price
$1,200.00
$0.00
Unit price
per
Tax included.
Our Signature 21 Day Coaching Program
Initial consult 75 - 90 minutes
2 x 60 consults per week (or 3 x 45 minutes)
Daily accountability
Full access to me - all day - every day
Custom meal plans
Gym & Home based workouts (optional) delivered in the app
This 21 day program I intend to be in your life every single day, with regular call to answer questions and to keep you on track.
Coaching topics will be tailored to your specific goal type and are designed to meet you exactly where you are
THIS IS HOW IT WORKS
The Initial Consult is 90 minutes in person/zoom and takes place a couple of days prior to starting the 21 days.
The initial call comprises of my signature body composition tutorial - by the end of this first consult you WILL understand weight loss.  I will show and explain to you exactly how the body loses weight, how our plan will allow this to happen and what you have been doing in the past that has not served you.  The presentation is about 30 minutes and it is this type of coaching that I am known for.
We decide (together) on which approach to take and I go away and design your meal plans.  Your meal plans are delivered to you via the app.  We can chat, log food, log workouts and make any adjustments on the app (www.theshrinkshopapp.com)
I sent you your meal plan within 48 hours and we connect on Zoom call #2 to make sure you have everything you need to start.
Your 21 days begin!
WEEK ONE
I deliberately keep week one pretty straightforward, you will be eating the same thing every day as I want to make sure our plan on point.  I don't encourage any exercise during week one as I want to make sure that it is the nutrition that is working.
WEEK TWO
Now we create a lot more meals for you to choose from.  

We continue our tutorials on subjects relevant to you - that might be nutrition and training, it might be hormones and menopause, it might be a changing adolescent body.  Our coaching is designed around your situation and your goals.  Now we also talk about exercise.
WEEK THREE
This is fun, because now we build new meals TOGETHER!  Using zoom and the app I show you how to build your own meals, I show you exactly how to make the macros work and how to create meals that will continue your progress.  You will build the meals online with me in real time.

By the end of the 21 days you WILL understand weight loss and you will have a weight loss plan you can follow and you WILL know how to build your own.
COMMITMENTS
I commit to holding you accountable on a daily basis

I need you to commit to logging your meals and exercise - I can't help you if I can't see what you're doing
AFTER THE 21 DAYS
There are 4 options
Continue working with Joanne using the 
4 Week Follow up - 4 weekly sessions

Single appointments - book consultations as you need them.
Group Coaching - join one of my Mastermind Groups (small group format) - this is really very fun!
Accountability membership paid monthly.  You log exercise and food and I review at the end of every day.   
All new clients must start with this initial 21 day program
If I haven't seen you for over a year you will need to do the initial 21 days again
WHY?
The power of these first 21 days is the education you will receive.  
Weight loss has a 95% failure rate, but not with my clients!
My success is due to the education and information I give them in the initial 90-minute appointment.  When people understand what I'm asking of them, I get compliance and they get results.
WHAT NEXT?
Purchase the program

I will send you a questionnaire to complete

Download the app (I will send the link)

We will set a time


---