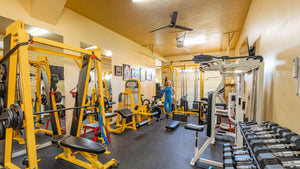 The Shrink Shop
ONLINE PERSONAL TRAINING
Regular price
$150.00
$0.00
Unit price
per
Tax included.
Train with Joanne from the comfort of your home or gym - from anywhere in the world!
This is how it works:
Joanne can train every goal type virtually (using Zoom)
Joanne is a personal trainer, strength & conditioning coach (30 years) and a yoga instructor (RYT 200 hours)
For those who do not have any equipment Joanne will organize and mail to you the equipment you need to get started. Joanne will pay for it and ship it to you, the cost will be added to your first payment. Here is the amazon list This list can be discussed and modified to fit your goals/budget (if you bought everything on the list it would be under $1000, most people do not need everything)
If you have some equipment we will go over the amazon list and see what items you need to get started.
If you have a home gym, you will send Joanne a few photos of what you have and we should be good to go.
Joanne has full commercial gym, however the amazon list is more than enough to provide what you need for every level of workout.
You can workout using your phone, laptop, ipad or from your TV. Many clients simply Apple Cast to their television for the larger screen experience, or we can include an HDMI cable in your amazon list, one cable to connect your lap top to your larger screen TV. 
Training sessions are 60 minutes, there is the standard 24 cancelation policy
Joanne is based in Eagle Idaho which is Mountain Standard Time (MST) she primarily works with training clients in the morning to midday. We can discuss what days/times you need.
Joanne's training days start very early so evening appointments are not available.
Price per session has sliding scale, please see options.
To train with one other person the price will increase by only $20 per session
---