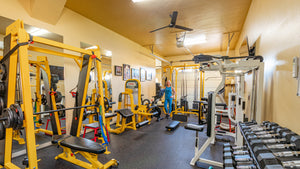 The Shrink Shop
3 DAY PERSONAL TRAINING RETREAT
Regular price
$1,900.00
$0.00
Unit price
per
Tax included.
This is an exceptional opportunity that is limited to a minimum of 2 people and a maximum of 4.
OCTOBER Friday 6 - Sunday 7 (option to arrive and meet on Thursday evening)
Book your own Personal Training Intensive
Take the Ultimate Training Fastrack.
Learn in 3 days what you might never learn training with training or doing this solo. Also, a great experience to share with a partner or friend.
You may book your private retreat (minimum of 2 people, maximum of 4). Please get in touch with me to discuss dates.
Please see strict cancellation policy at the bottom of this page

BEFORE PURCHASE PLEASE CONTACT ME TO APPLY 
JOANNELEECORNISH@GMAIL.COM  310 704 6569
Prices are per person
Location Eagle Idaho
This 3 day retreat will be held at my home gym in Eagle Idaho
It will be a 3 day intensive with at least 6 hours of gym time per day
Arrive Thursday or very early Friday morning
Depart Sunday afternoon, evening, or Monday morning. 
The retreat will go on until Sunday at 5 pm, but I understand if you need to take an early flight.
Thursday night - optional meet and greet
FRIDAY
Friday 8 - 10  Form, Technique & Posture
Friday 11 - 1  Form, Technique & Posture Practice
Lunch catered
Friday 3 - 5   Movement Patterns for Longevity
SATURDAY
Saturday 8 - 10   Movement Patterns for Longevity
Saturday 11 - 1   Body Part Training Chest & Back
Saturday 3 - 5  Body Part Training Hamstrings & Abs
Saturday dinner on us!
SUNDAY
Sunday 8 - 10  Body Part Training Quads & Glutes
Sunday 11 - 1 Body Part Training Shoulders & Arms
Sunday optional Lunch at local vineyard
Sunday 4 - 6 casual Q&A with Joanne at our home
Arrange flights to return Sunday afternoon/evening or Monday morning
If anyone wants to stay longer and book Personal Training with Joanne, please let us know
(charged separately at the usual training rate)
This is a personal training retreat (no nutrition coaching, although we will spend plenty of time together asking questions). Protein shakes, fruit, nuts, snack, and water will all be provided.
Lunch on Friday will be catered
Saturday we will take you to dinner
Sunday, we visit a local vineyard for lunch
There are several local hotels within 2 miles; the closest are
Hilton Garden Inn  approx 1.5 miles right on the river with a great restaurant next door
Homewood Suites approx 1.5 miles in the same parking lot as Coynes one of the most popular restaurants in Eagle
There are great hotels in Boise approx 10 miles/30 minutes
If you are looking for an Airbnb please search using Eagle Idaho (I can also give you our address to be more specific)
There are great direct flights into Boise (the airport is 12 miles from our home and it is a very easy airport!)
Delta, Alaska, United, Allegiant, Southwest and Avelo (the new kid on town under cutting everyone)
If you want to skip out of training I can set you up with a yoga class or direct you to the local spa (1.5 miles away) Two Rivers Spa  
CANCELLATION POLICY - NO REFUNDS GIVEN IF CANCELLED WITHIN 30 DAYS OF EVENT.
---